A surprise meeting with a Shanghai headmaster at Kashgar
In the picture below, the man carrying a red backpack, talking to Madame Jiangxue Pan is a teacher from Shanghai. His name is Guoquan Chen. Mr. Chen comes from Shanghai Xingang Middle School of Pudong New Area. He is also the assistant to the headmaster of Chache No. 2 Middle School. Xingang Middle School has been operating the Adream Center for about eight or nine years and has recently upgraded the Center's facilities. On his trip to assist the Xinjiang Uygur Autonomous Region, having found out that the Chache No. 2 Middle School also had an Adream Center, Mr. Chen was very pleased.A group of Adream workers met Mr. Chen at Kashgar, a central city in southern Xinjiang. Despite the obvious differences of the two schools he was working with, both have Adream Centers, which serve as a bridge connecting Shanghai and Xinjiang. This convinced Mr. Chen that education opportunities can be accessed in an equitable way. Isn't "Equity in Education" the vision Adream is striving for?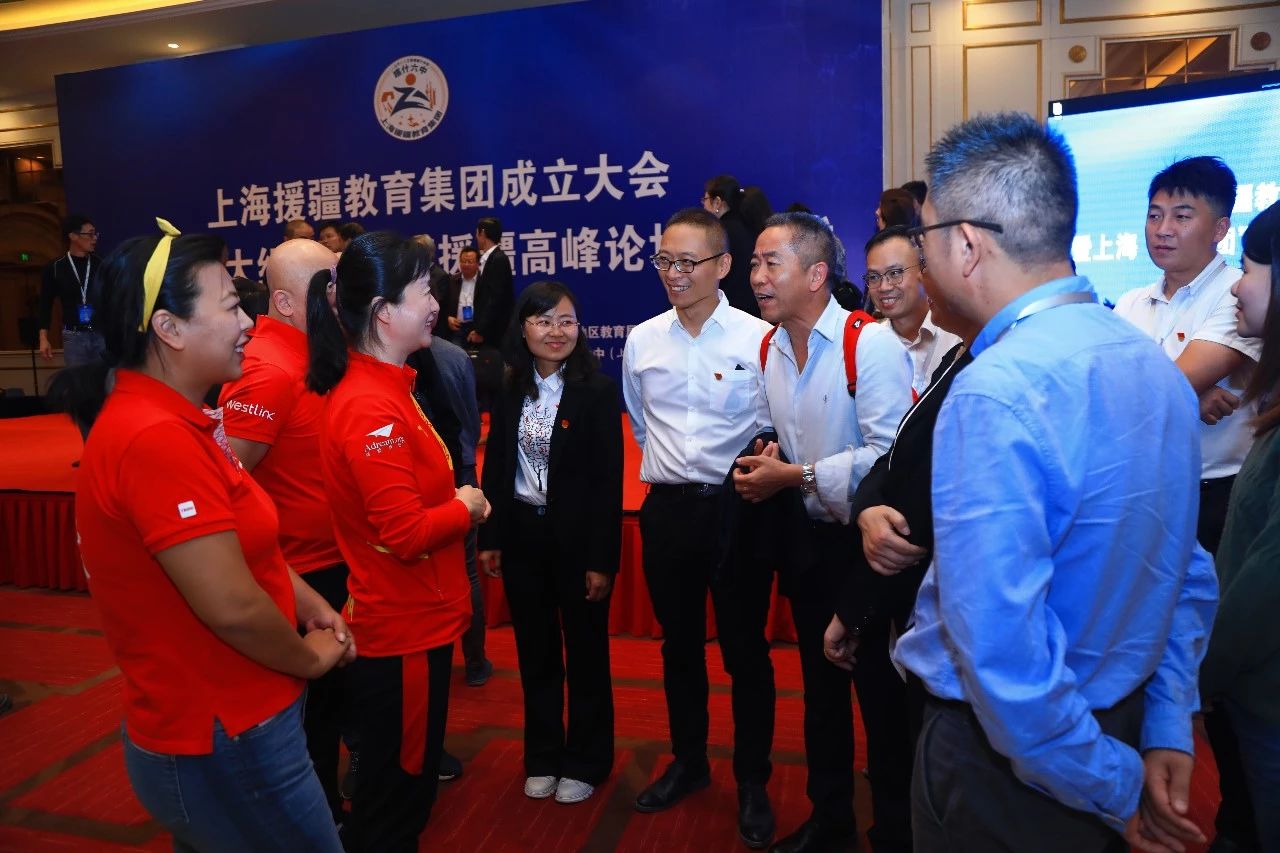 #A surprise encounter between Jiangxue Pan (second lady on the left) and Guoquan Chen, a Xinjiang-bound headmaster from Shanghai
On October 16th, Shanghai-Assisting-Xinjiang Educational Group was established in Kashgar, with the goal of shaping a number of demonstration schools according to "Shanghai standards", and nurturing a group of pillar teachers that can be "deeply rooted in Xinjiang".  Jiangxue Pan, Chairwomen of Adream Foundation and Houqing Yin, National School Inspector, together with leaders of various levels from the Xinjiang Uygur Autonomous Region including Kashgar attended the founding ceremony, that marks the start of the age of Competency-based Education for children in southern Xinjiang on a "grand scale".
In this Shanghai-Assisting-Xinjiang Campaign, Shanghai mainly assists four counties in Kashgar, i.e., Zepu, Shache, Yecheng and Bachu. Shanghai-Assisting-Xinjiang Educational Group was founded by the joint decision of the Kashgar Regional Administrative Office and Shanghai-Assisting-Xinjiang Command Center and at the approval of the Kashgar Regional Committee. Its founding marks the official start of Shanghai assisting Xinjiang's educational cause on a "grand scale".
Shanghai-Assisting-Xinjiang Educational Group is endeavoring to contribute Shanghai's knowledge and experiences to China's critical battle against poverty, which is a grand national strategy. The Group is fully tapping into Shanghai's strengths in educational concept, management and resource availability, embracing an innovative operation model while enhancing efficiency, so as to satisfy the educational needs of all ethnic groups in Xinjiang.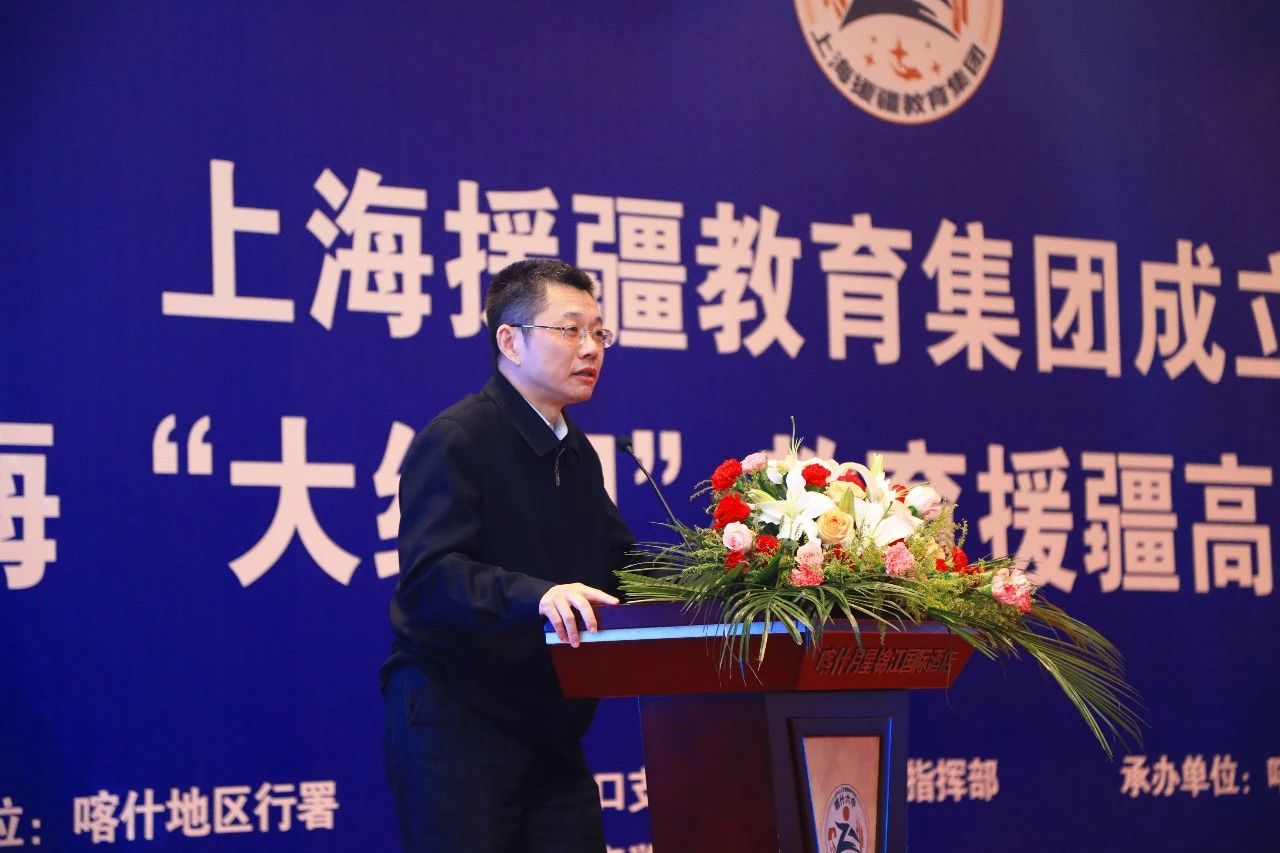 #Jing Lu, Director of Shanghai Education Commission, delivered a keynote speech at the founding conference of Shanghai-Assisting-Xinjiang Educational Group
Jing Lu remarked: "We readily innovate in our way in assisting the education cause of Xinjiang to make ensure that every child in Kashgar has equal access to high-quality education, and every child becomes the 'seed' of ethnic unity and the construction of China's borderland region."
Shanghai-Assisting-Xinjiang Educational Group adopts a "1+4+N" model, meaning "one core school + four county-level education groups + radiating to entire region". The core school refers to the Kashgar No. 6 Middle School (otherwise known as the Kashgar Middle School affiliated to Shanghai Normal University); the four county-level "education groups" are based in the four counties of Kashgar that Shanghai is assisting with. The plan is, through two rounds of construction periods (every three years), to build a strong core school with characters and strengths, which can radiate to all member schools, resulting in great overall enhancement of school quality.
#(From left to right) Yuhong Tao, Deputy Secretary of Education Working Committee of Kashgar Municipal Committee, Deputy Director & Party Secretary of Kashgar Education Bureau; Chen Su, Secretary General of Shanghai Society of Education; Houqing Yin, National School Inspector, Vice President of Chinese Society of Education, President of Shanghai Society of Education; Congchun Wang, Deputy Commander-in-Chief of Shanghai-Assisting-Xinjiang Command Center; Jiangxue Pan, Founder and Chairwoman of Shanghai Adream Foundation.
Changbo Sun, Deputy Director of Xinjiang Uygur Autonomous Region Education Department remarked: "We hope by introducing Shanghai standards, we will be able to enhance the educational level across Kashgar, so that all the students can enjoy high-quality educational resources and become qualified successors that exhibit balanced moral, intellectual, physical, manners and work abilities development for socialist modernization building. Kashgar should seize this opportunity to gradually move from universalization of education to higher-quality education."
Yunfeng Cao, Deputy Director of the Organization Department of Xinjiang Uygur Autonomous Region Party Committee and the Chief Leader of the Ninth Batch of Assisting-Xinjiang Cadres commented: "Through sending cadres in large batches to Xinjiang, Shanghai endeavors to shape a number of demonstration schools in Kashgar and nurture a group of Xinjiang-loyal pillar teachers, so as to provide educational experiences that can be replicated and promoted not only in Kashgar but throughout the entire Xinjiang area."
Parhati Rouzi, Deputy Secretary of Kashgar Party Committee and Commissioner of the Administrative Department, emphasized that Shanghai's education assistance to Xinjiang is of great significance to the people of southern Xinjiang to win the critical battle against poverty.  "We will continue to explore a new model of Shanghai's education assistance to Xinjiang based on Shanghai's concepts and the reality of Kashgar," he added.
Jing Lu, Director of Shanghai Municipal Education Commission, pointed out at the Group's founding conference that China as a whole has reached the world's medium and upper level in the area of education, and Shanghai, as the pacesetter and pioneer of China's education reform, should plan the overall development of education with a panoramic view of the country and contribute to the realization of China's education modernization goal of 2035.
As the "pacesetter", the enrollment rate of compulsory education in Shanghai has exceeded 99%. This is almost the maximum level a city can ever achieve. Students in Shanghai scored excellently in PISA tests, impressing the world with the stellar performance of Chinese students one time after another.
However, modernization of education requires not only transfer of knowledge, but also all-round development of students, Lu said. In this sense, Shanghai still has a long way to go before it becomes a "Magnet" for young people worldwide to seek educational opportunities.
Lu emphasized that in the future, Shanghai's basic education should work further in the following three aspects:
Continue to drive equity in education and narrow the gap between urban and rural areas;
 Advance from knowledge-transfer style of education to all-round-development-focused education, create a breakthrough evaluation system for education effectiveness, and endeavor to develop students' imaginative power and creativity.
Satisfy educational needs of all children and provide enabling conditions for children with special needs.
Director Lu's idea of nurturing innovative talents is perfectly in line with Adream's vision of enhancing students' "imaginative power" through the Adream curriculum. Adream is extremely proud of Shanghai gradually becoming the leader of China's education reform, as the leader itself is moving from providing "good" education to "higher-quality" education.
On the seminar on "Deepening Education Reform & Comprehensively Improving the Quality of Education" held on the same afternoon, Houqing Yin, National School Inspector and Vice President of Chinese Society of Education proposed that the current priority for Shanghai shall be championing a new era of quality-first education.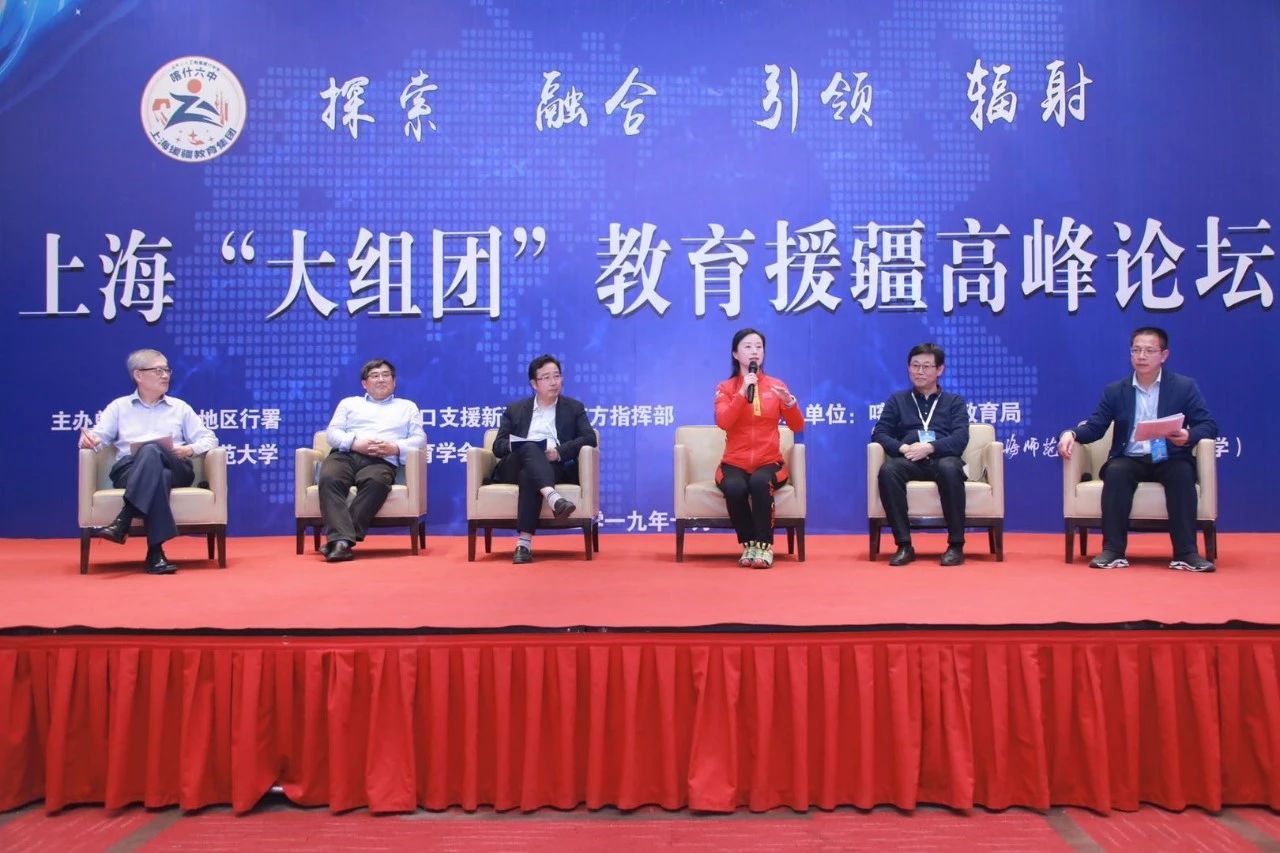 #Madame Jiangxue Pan (third person from the right) speaks at the round-table discussion.
Inspector Yin remarked: "While academic achievement is important, it's not the only target education is striving for. Students reaching the next level of education shall have a rich spiritual world, being confident, poised and respected persons. The next step of education should equip students with dispositions and key abilities to face the future, aka core competencies.
The way to realize these core competencies, instead of simply taking or replacing relevant curriculum contents, is to reform the study method and teaching model.
Inspector Yin explained: "At the moment, we still rely heavily on the pedagogy of knowledge transfer and skills-centered training. We have placed too much emphasis on right answers. A new model of scenario-based education that stems from problems created, and new educational modalities, study unit design and subject matter activities will prompt students to study deeper. Only in this way, can we nurture core qualities of Competency-based Education in students."
Jiangxue Pan echoed Inspector Yin that nurturing core competencies in students is exactly the central tenant of the Adream curriculum. For more than a decade, Adream has been endeavoring to bring Competency-based Education to various schools across the nation in the form of Adream curriculum. This curriculum integrates Competency-based Education in a cross-disciplinary fashion, much beyond mere transfer of knowledge.
Jiangxue Pan explained further that research and development of Adream curriculum focuses on reshaping the teacher-student relationship, promoting multi-dimensional experiences, emphasizing the integrated evaluation of teaching and studying outcomes, and promoting the concept of inter-spatial collaboration between teachers and students and among educational entities. The goal of Adream curriculum is to nurture students to be good learners so that they can adapt to the vast world outside the school.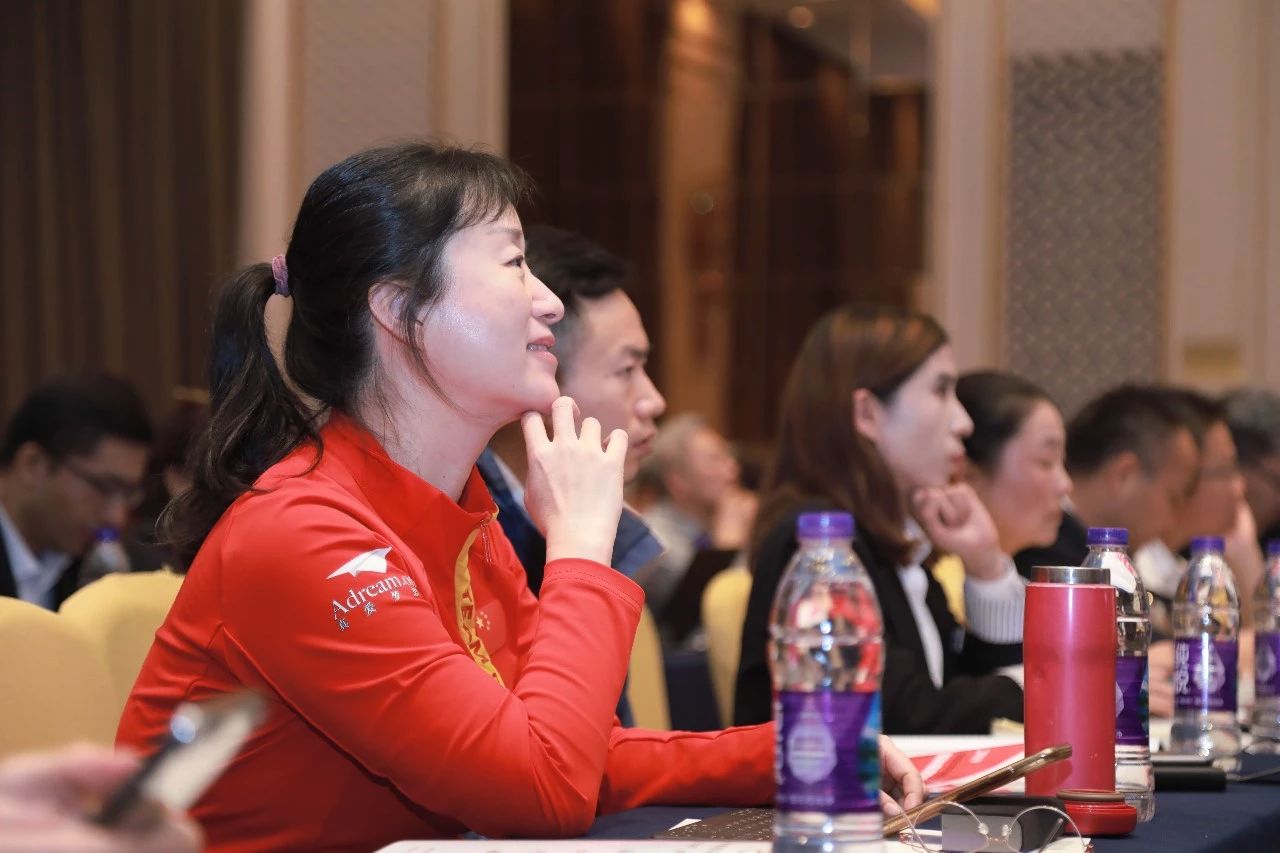 When Jiangxue Pan first visited Kashgar in 2010, she was accompanying the then Shanghai Party Secretary Zhengsheng Yu, who visited the Adream Center donated by Adream Foundation at Bachu No. 2 Middle School in southern Xinjiang. At the time the school was still a construction site. The completion of the exuberant one-classroom Adream Center became the first classroom put into use in the entire teaching building that was still under construction at that time. This is the story of the 159th Adream Center in Adream's history.
Nine years later, this "historic" Adream Center is still in a good shape. Teacher Yongjun Wang from this school used to teach 13 Adream curriculums all by himself. Despite this huge workload, he never wavered in his determination to provide Adream Curriculum to some 6000 students.
Teacher Wang's efforts were bearing fruits — some students found a future career they liked in Adream's future career class, and others worked out a travel plan in the "Dream Journey" class, courageously enough to set out an expedition in a small group to Beijing to watch the flag-raising ceremony without parents' company.
Today, 82 Adream Centers have sprawled across Xinjiang with another 9 to be added this year according to plan. Apart from investing in hardware, Adream is training teachers, headmasters and education bureau heads in Xinjiang so that every educator will enjoy a rewarding and happy career.
---
The copyright of this article belongs to the author and the copyright of the translation of this article belongs to the translator. If you need to quote this article, please identity the sources.
Ready to share.